Having a blog is all about being organized with your time, planning out your posts and keeping up with an endless list of to-do's. Well, that is if you want to make money off your blog. The best way to stay organized is a blog planner.
Now sure you could make your own, but why take the time out of your day when there are so many FREE awesome blog planners online? I have rounded up my absolute favorite free printable blog planners so you can visit, print and get started with your own blog.
Part of my 2014 New Year's resolutions will be to blog more frequently. I spent a lot of time on my One Cheap Utah Chick blog, but honestly I no longer have time to keep up with it. This blog, however, is my baby and always has been. So you can bet you'll see a lot more posts in 2014!
Okay, now for the free printable blog planners.
For 2014 I think I will be making the switch to this playful, well-thought out planner by
Confessions of a Homeschooler
. I absolutely love her design and what I love even more is I can print it out at Kinkos, have it bound and pick it up -- ready to go! It doesn't cost much either to have this done at Kinkos, which is why I toss out the suggestion. Plus, saves you on paper and ink printing a year's worth of blog planning pages at home.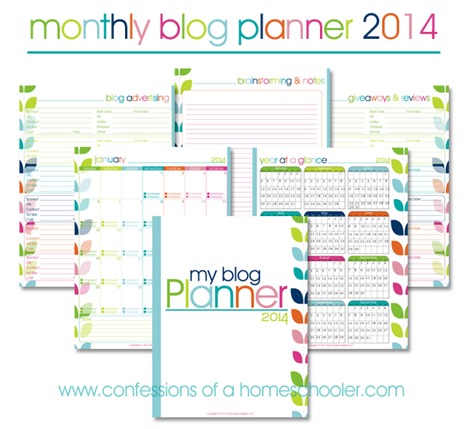 If you're looking for a complete blog planner, one that includes expense/income trackers, sponsors, affiliate links and more, then this free blog planner by
Portland Bloggers
is killer!
Download the complete blog planner
here
.
Having a blog planner is only one step in a successful blog though. So I think starting next week I will start creating posts on how to write a killer blog. I write blogs for clients on a daily basis and I help manage their blogs, which is why I rarely have time for my own. But, the first and most important step is having a planner set up and ready to go! So I suggest visiting these sites, printing your blog planner and start thinking about what you want to blog about.
Until next time....